MAPA DE SUEÑOS LATINOAMERICANOS
15.11.19 - 17.02.20 / Sala PAyS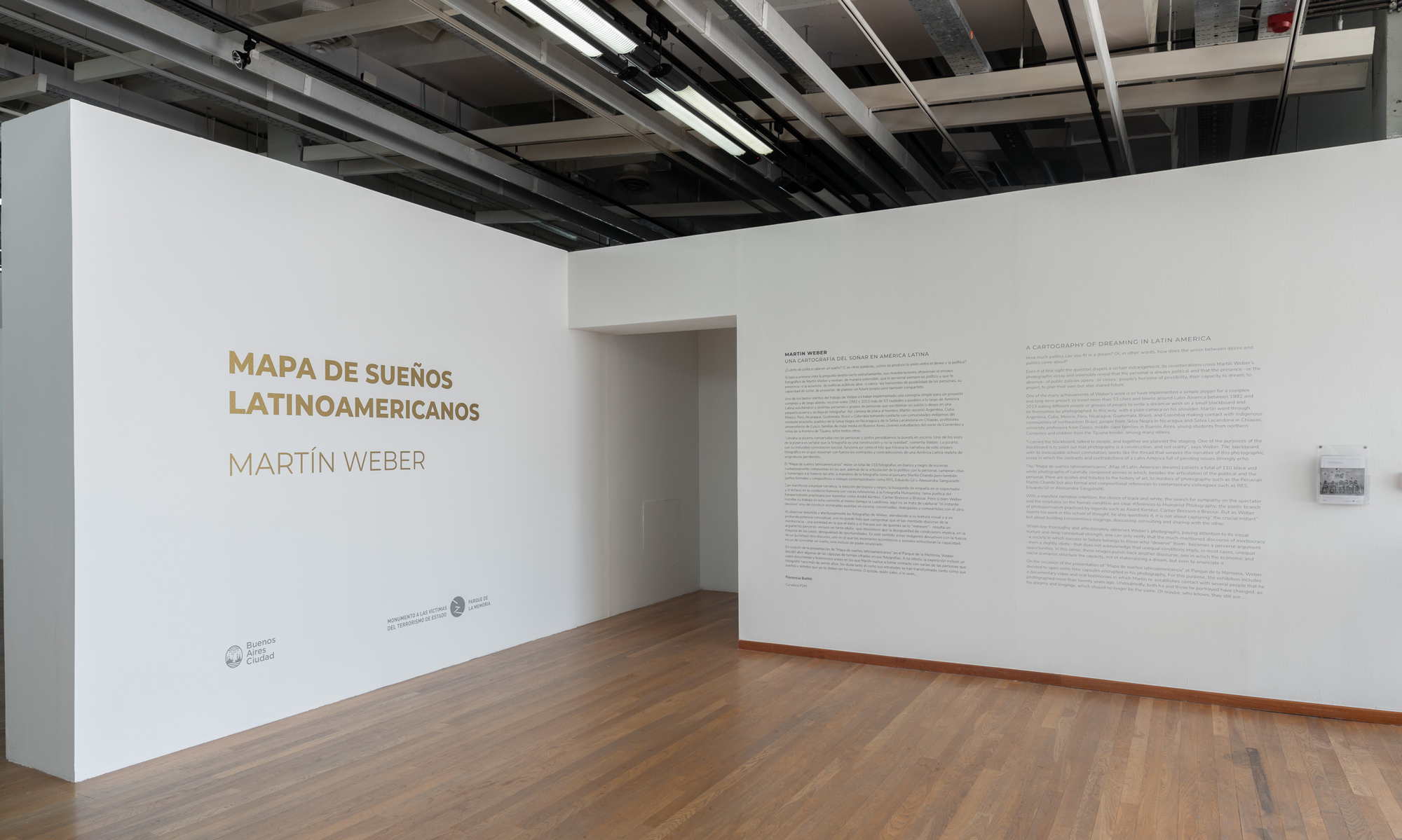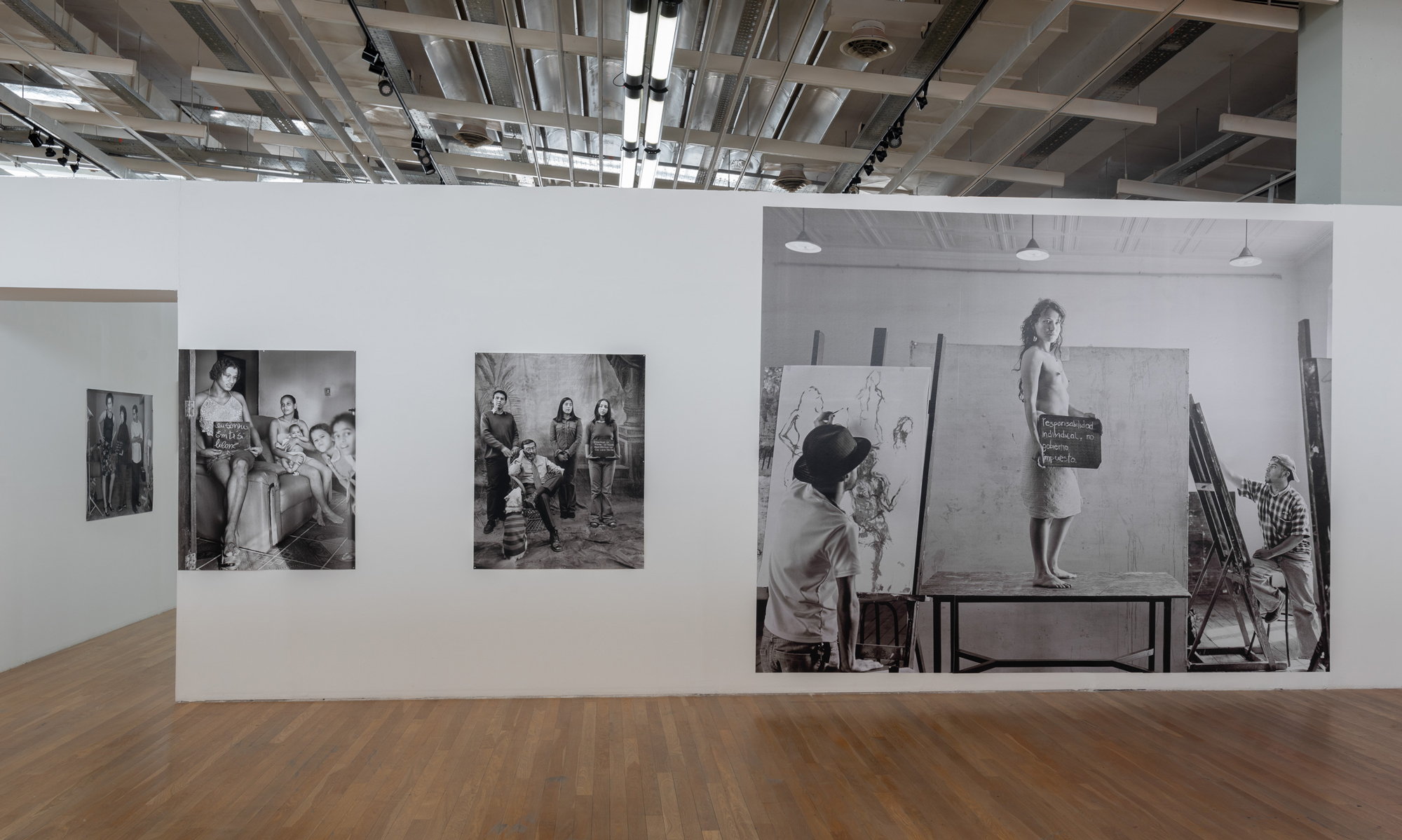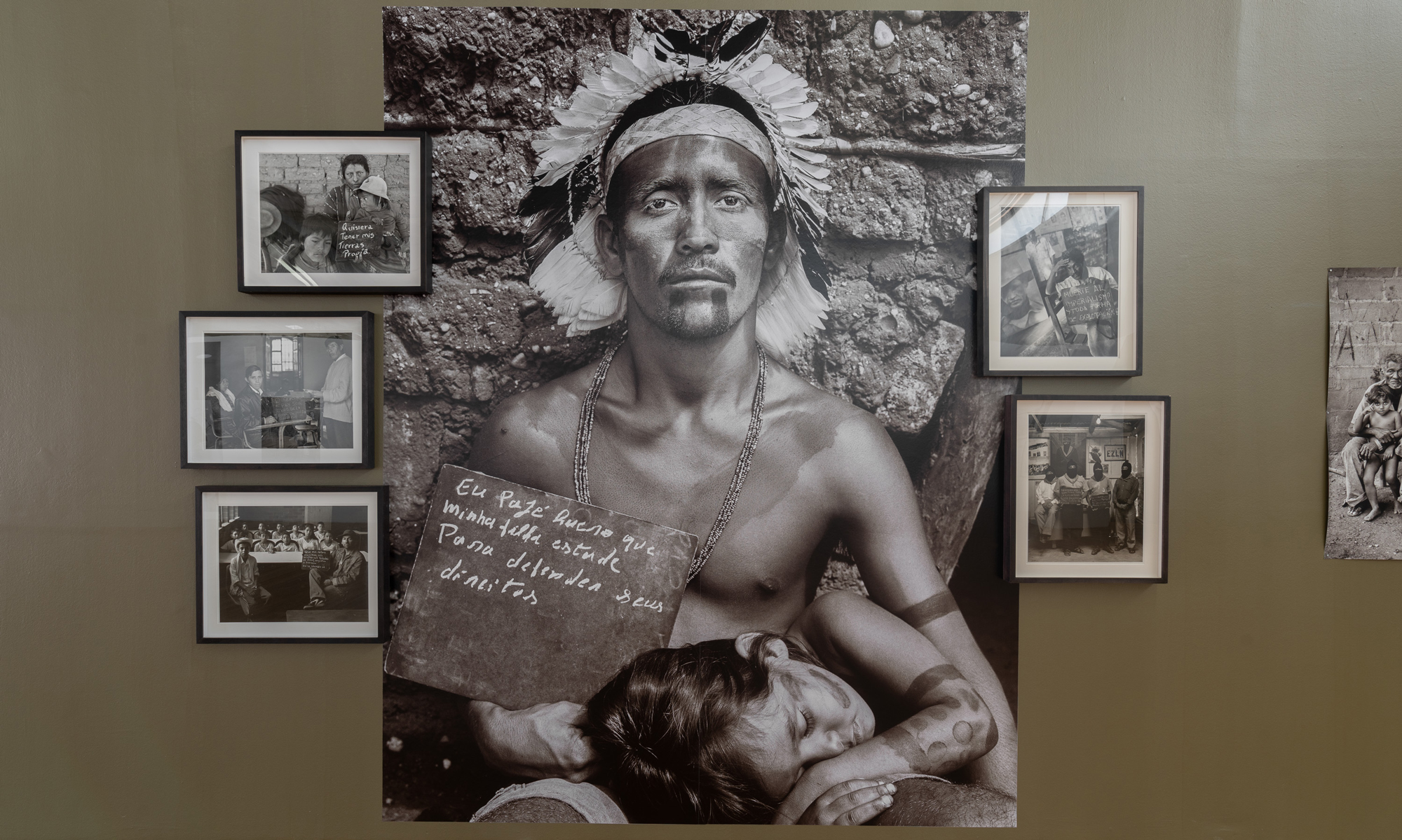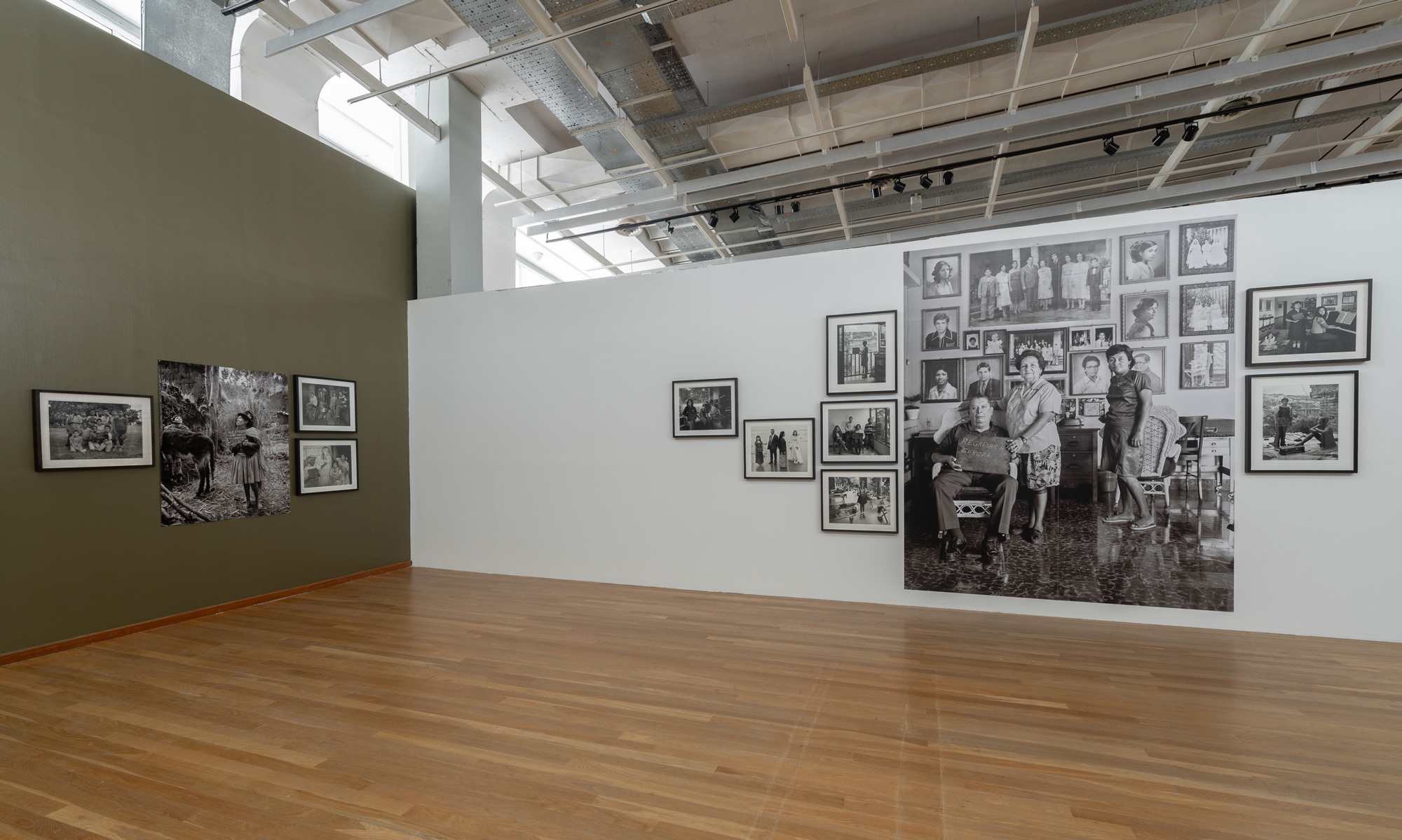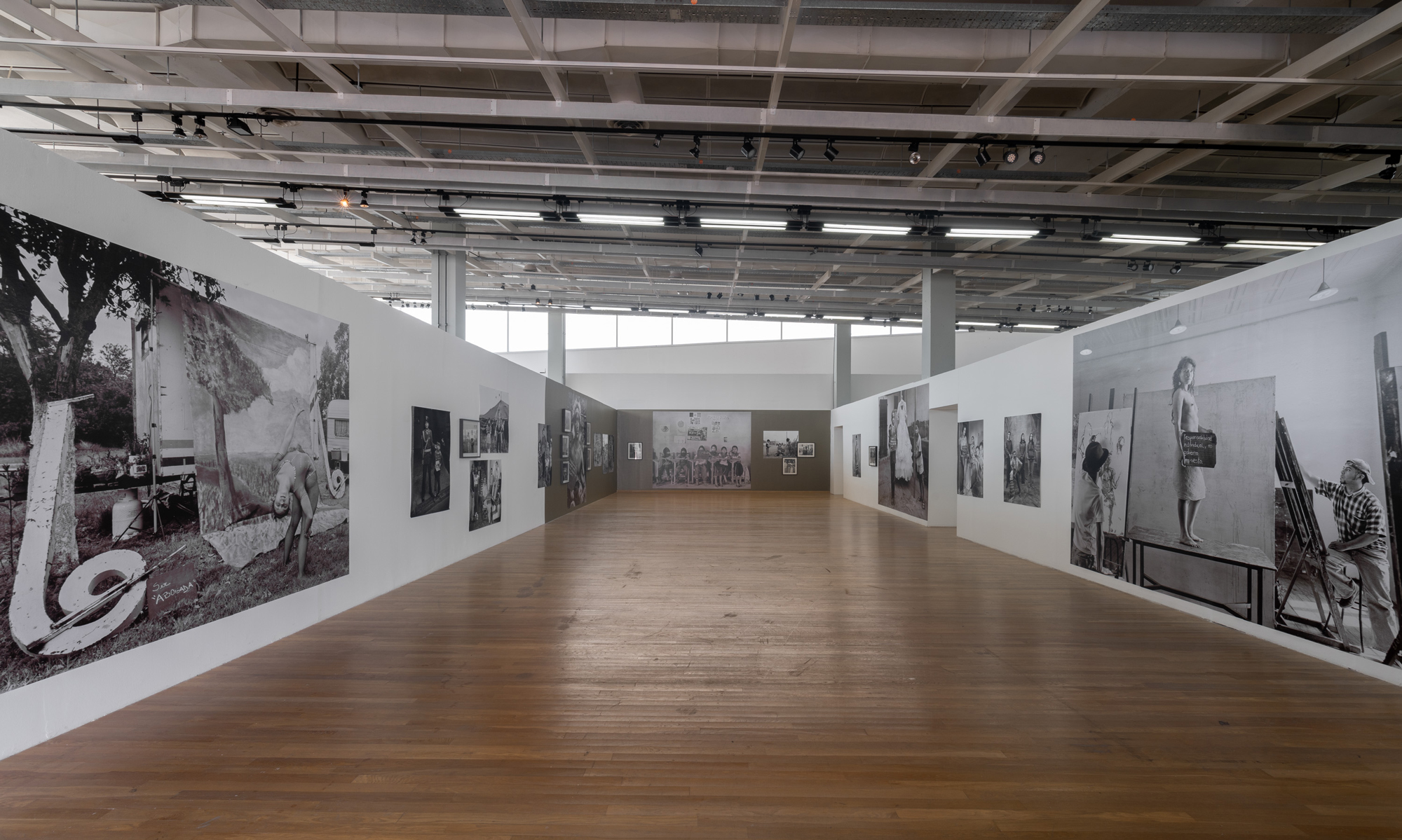 Curator: Florencia Battiti
–
A cartography of dreaming in Latin America
How much politics can you fit in a dream? Or, in other words, how does the union between desire and politics come about? 
Even if at first sight the question dispels a certain estrangement, its reverberations cross Martín Weber's photographic essay and ostensibly reveal that the personal is always political and that the presence –or the absence– of public policies opens –or closes- people's horizons of possibility, their capacity to dream, to project, to plan their own but also shared future.
One of the many achievements of Weber's work is to have implemented a simple slogan for a complex and long-term project: to travel more than 53 cities and towns around Latin America between 1992 and 2013 asking different people or groups of people to write a dream or wish on a small blackboard and let themselves be photographed. In this way, with a plate camera on his shoulder, Martín went through Argentina, Cuba, Mexico, Peru, Nicaragua, Guatemala, Brazil, and Colombia making contact with indigenous communities of northeastern Brazil, people from Selva Negra in Nicaragua and Selva Lacandona in Chiapas, university professors from Cusco, middle class families in Buenos Aires, young students from northern Corrientes and children from the Tijuana border, among many others.
"I carried the blackboard, talked to people, and together we planned the staging. One of the purposes of the blackboard is to point out that photography is a construction, and not reality", says Weber. The blackboard, with its inescapable school connotation, works like the thread that weaves the narrative of this photographic essay in which the contrasts and contradictions of a Latin America full of pending issues strongly echo. 
The idea of the blackboard first came to Martín from some readings by Bertolt Brecht, especially of his "estrangement effect", which advocated a type of theatre that produced certain emotional distance in the spectator so that he could critically reflect on the play. However, the blackboard with the handwritten texts that summarize in a small space yearnings and aspirations of all kinds, also introduces into the image a different time: a projective time, a sort of "forward movement" that tensions and, in some way contradicts, the "this has been" inherent in photography. If Roland Barthes said that there was no future in photography, these small blackboards become verbal, expressive and prospective, swirling the congenital past of photography, the inseparable present of the photographic instant and the dormant future of desire.
The "Mapa de sueños latinoamericanos" (Map of Latin-American dreams) collects a total of 110 black and white photographs of carefully composed scenes in which, besides the articulation of the political and the personal, there are quotes and tributes to the history of art, to masters of photography such as the Peruvian Martín Chambi but also formal and compositional references to contemporary colleagues such as RES, Eduardo Gil or Alessandra Sanguinetti.
With a manifest narrative intention, the choice of black and white, the search for sympathy on the spectator and the emphasis on the human condition are clear references to Humanist Photography, the poetic branch of photojournalism practiced by legends such as André Kertész, Cartier Bresson o Brassai. But as Weber inserts his work in this school of thought, he also questions it, it is not about capturing "the crucial instant" but about building conscientious stagings, discussing, consulting and sharing with the other.
Therefore, the gaze of anyone who goes over this cartography of dreaming in Latin America will probably first go to the blackboard, to read the dream, but once the immediate urge to read the text inserted in the image has been fulfilled, the gaze will slowly begin to perceive everything else the images exhale. Each context, whether urban or rural, interior or exterior, modest or accommodated, becomes a universe of signs to be decoded, an immense hiatus of meaning to be completed that rebounds, sometimes in harmony and sometimes not, with the text written on the blackboard.
When one thoroughly and affectionately observes Weber's photographs, paying attention to its visual texture and deep conceptual strength, one can only verify that the much-mentioned discourse of meritocracy –a society in which success or failure belongs to those who "deserve" them- becomes a perverse argument –even a slightly idiotic- that does not acknowledge that unequal conditions imply, in most cases, unequal opportunities. In this sense, these images punch back another discourse, one in which the economic and social scenarios structure the capacity, not of materializing a dream, but even to enunciate it
On the occasion of the presentation od "Mapa de sueños latinoamericanos" at Parque de la Memoria, Weber decided to open some time capsules encrypted in his photographs. For this purpose, the exhibition includes a documentary video and oral testimonies in which Martín re-establishes contact with several people that he photographed more than twenty years ago. Undoubtedly, both he and those he portrayed have changed, as his dreams and longings, which should no longer be the same. Or maybe, who knows, they still are…
Florencia Battiti
Curadora 
Martin Weber (Santiago de Chile, 1968) is a visual artist that studied at Universidad de Buenos Aires and, between 1992 and 1993, completed his studies at the International Center of Photography in New York. He was an artist-in-residence at IASPIS (Stockholm, 1998), Light Work (Syracuse, 2002), CPW (Woodstock, 2004), MAC and D21 (Santiago de Chile, 2014). Among the numerous scholarships he has received, those awarded by the Guggenheim Foundation (1998) and Prince Claus (2004) stand out. He also obtained national and international prizes, the Klemm Prize (1999), Hasselblad Prize (1999 and again in 2001), No Strings Foundation (2005), Silver Eye Award (2008), Gran Premio Instalaciones y Medios Alternativos del Salón Nacional (2016) and Magnum Foundation (2018) are the most noteworthy. This year, the Gruppo Friulano per la Nuova Fotografía (CRAF) awarded him the International Award in Photography. In 2011, Ediciones Larivière has published Ecos del interior and, in 2018, Mapa de sueños latinoamericanos. He is currently making his first opera-prima "Map of Latin American Dreams" with the support of Eficine (Mexico), Sørfond (Norway), Mecenazgo de la Ciudad de Buenos Aires, INCAA and Doc Buenos Aires. On this occasion, for the first time, "Mapa de sueños latinoamericanos", his most important essay, is exhibited entirely at Parque de la Memoria.