The sculptures that comprise the Art Program of the Parque de la Memoria participated in the International Competition of Sculptures, which took place in 1999.
A jury comprised by the following members: Marcelo Pacheco, Enio Iommi, Fabián Lebenglik, Carlos Alonso, Estela Carlotto, Adolfo Pérez Esquivel, Paulo Herkenhoff, Llilian Llanes, David Elliot and Francoise Yohalem, selected eight winning projects and awarded four special mentions.
Award-winning artists were: Claudia Fontes (Argentina); Rini Hurkmans (The Netherlands); Marie Orensanz (Argentina); Grupo de Arte Callejero (Argentina); Nuno Ramos (Brazil); Marjetica Pötrc (Slovenia); Germán Botero (Colombia) and Dennis Oppenheim (United States).
The works that received special mentions (in order of merit) were: Per Kirkeby (Denmark); William Tucker (United States) and Nicolás Guagnini (Argentina).
Additionally, the then-Commission for a Monument also invited six other artists to participate, based on their prestige, career and commitment to the defense of human rights: Roberto Aizenberg (Argentina), Juan Carlos Distéfano (Argentina), Norberto Gómez (Argentina), Leo Vinci (Argentina), Magdalena Abakanowicz (Poland) and Jenny Holzer (United States).
At the beginning of 2000, the construction plan for the sculptures began, which is developed on the basis of feasibility studies that analyzed the projects on a case-by-case basis, considering issues related to the construction, budget and maintenance processes.
At present, the sculptures of the following artists are exhibited: Claudia Fontes, Marie Orensanz, Grupo de Arte Callejero, Dennis Oppenheim, William Tucker, Nicolás Guagnini, Germán Botero, Roberto Aizenberg and Norberto Gómez.
FIGURES WALKING
Magdalena Abakanowicz
1999
A multitude of people or birds, insects or leaves is a mysterious set of variations of the same type. The enigma of the rejection of nature by the exact repetition or its inability to produce it. In the same way that the human hand is unable to repeat its own gesture, I invoke this disturbing law and launch my own immobile crowds at that rhythm.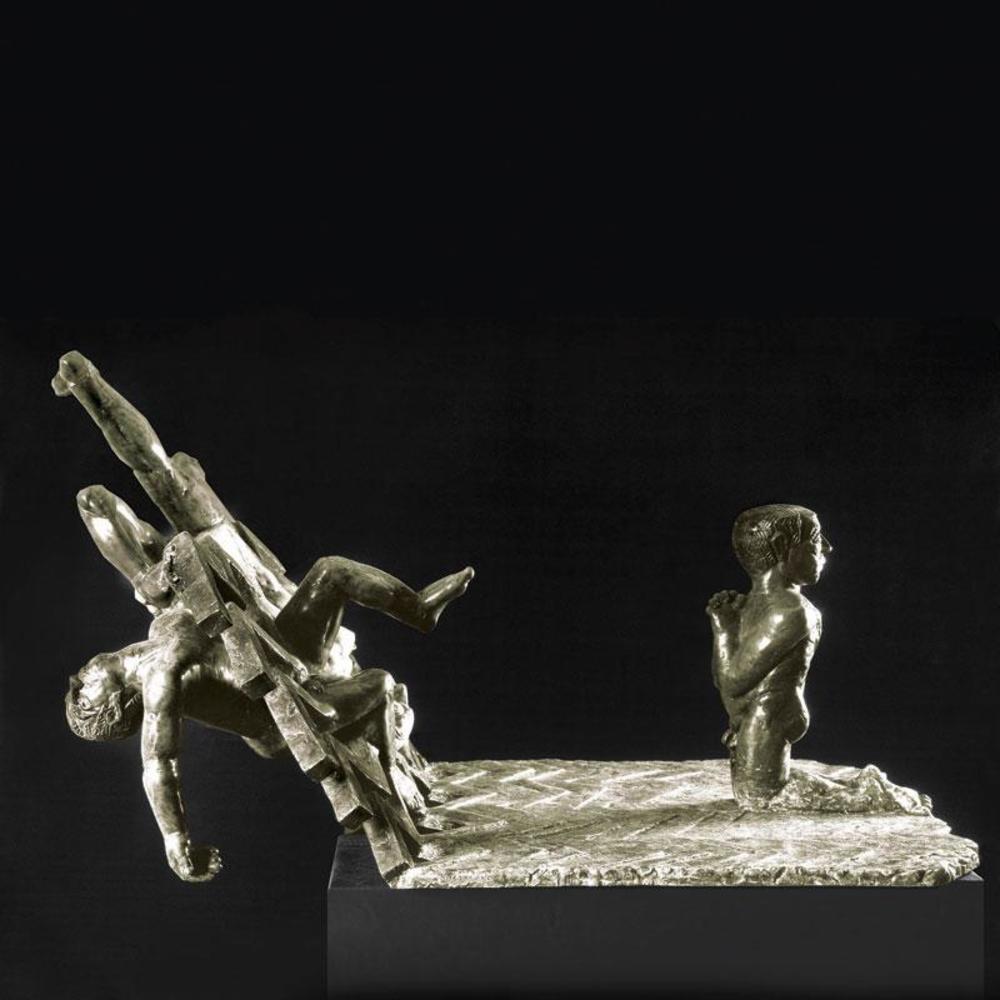 BY GRACE RECEIVED
Juan Carlos Distéfano
1999
The cruelty and the tearing of the dark years of the dictatorship continue to inhabit our memory. The bodies thrown into the river point to evidence of a time that was one of hope and also of defeat. "By grace received" stages the pathetic and hypocritical attitude of those who blessed the behavior of the murderers and became their accomplices.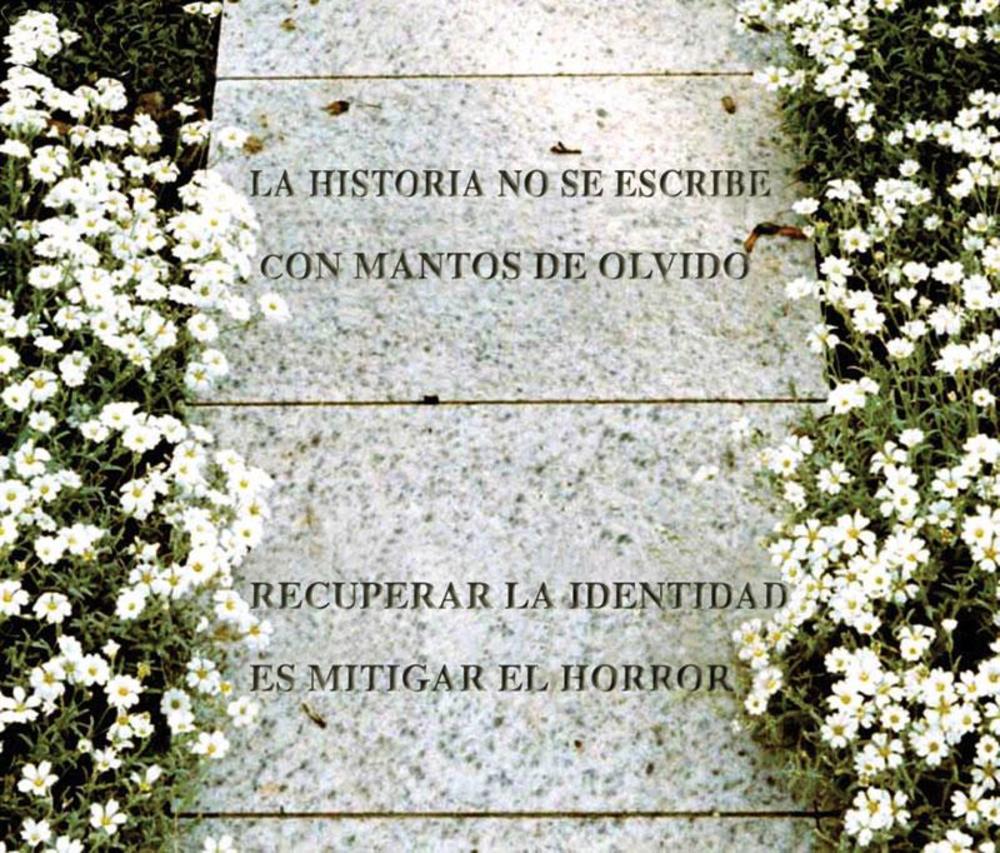 NO TITLE
Jenny Holzer
1999
What you gain by working on public roads is the surprise of passers-by when they find something unexpected, something with strong content. This is not achieved by working in galleries and museums, where today it is almost impossible to attract the attention of the viewer. On the other hand, in the public space people can still be surprised in such a way that there is even the possibility of modifying their way of thinking a little, and even inducing them to adopt some kind of attitude. Intervention on public space offers a greater possibility of changing something in the world because it not only manages to capture the attention of a greater number of people but because the texts are taken for their content before being discarded as "art".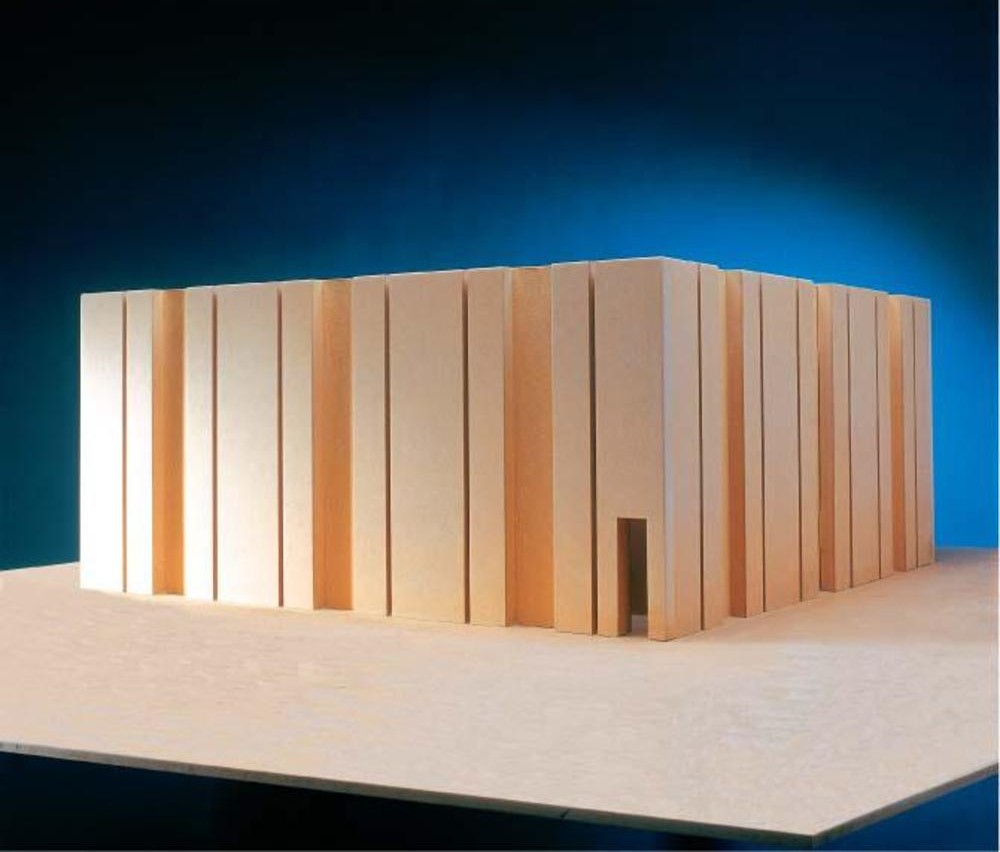 SPACE MEMORY
Per Kirkeby
1999
Narrating through spatial perception: upon entering this monumental block of
strange and undefined lines, it is crossed by a succession of small and narrow cells with faint dislocated walls. Passing through narrow doors you come to a larger space in which there is more space, but it is still enclosed between walls. To exit, you must also go through a similar sequence of cells. You cannot leave, no matter the path you choose, without first going through that spatial memory.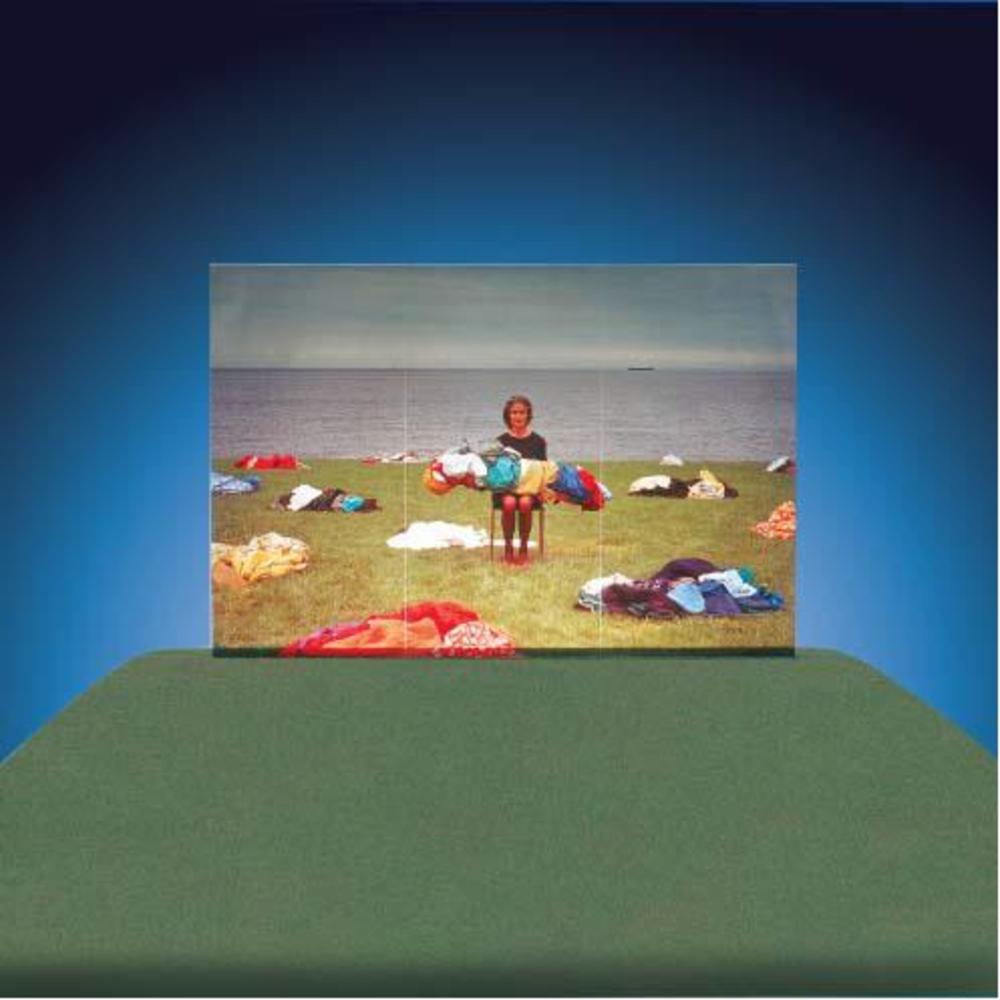 PIETÁ DE ARGENTINA
Rini Hurkmans
1999
The work that Rini Hurkmans projected for the Parque de la Memoria will be a panel of glass whose title is "Pietà de Argentina". The first step will be to gather used and very colorful clothes, preferably clothes that have belonged to the missing. These clothes will be the protagonist of the play. Hurkmans will take a photograph in the same place where the glass panel will be later placed. In the photo an Argentine woman will be seen sitting in a chair, surrounded by the clothes that may have been put together. In turn, the woman will be holding clothes on her lap. The photo will be transformed into a transparency that will be glued (melted) between two safety glass plates. In this way the entire work will be seen as a transparent screen, as a memory layer superimposed on reality (…) Thus, the image will condense a frozen moment in life and, at the same time, will account for the continuity of existence .
(Bert Steevensz, art critic, Amsterdam, 1999.)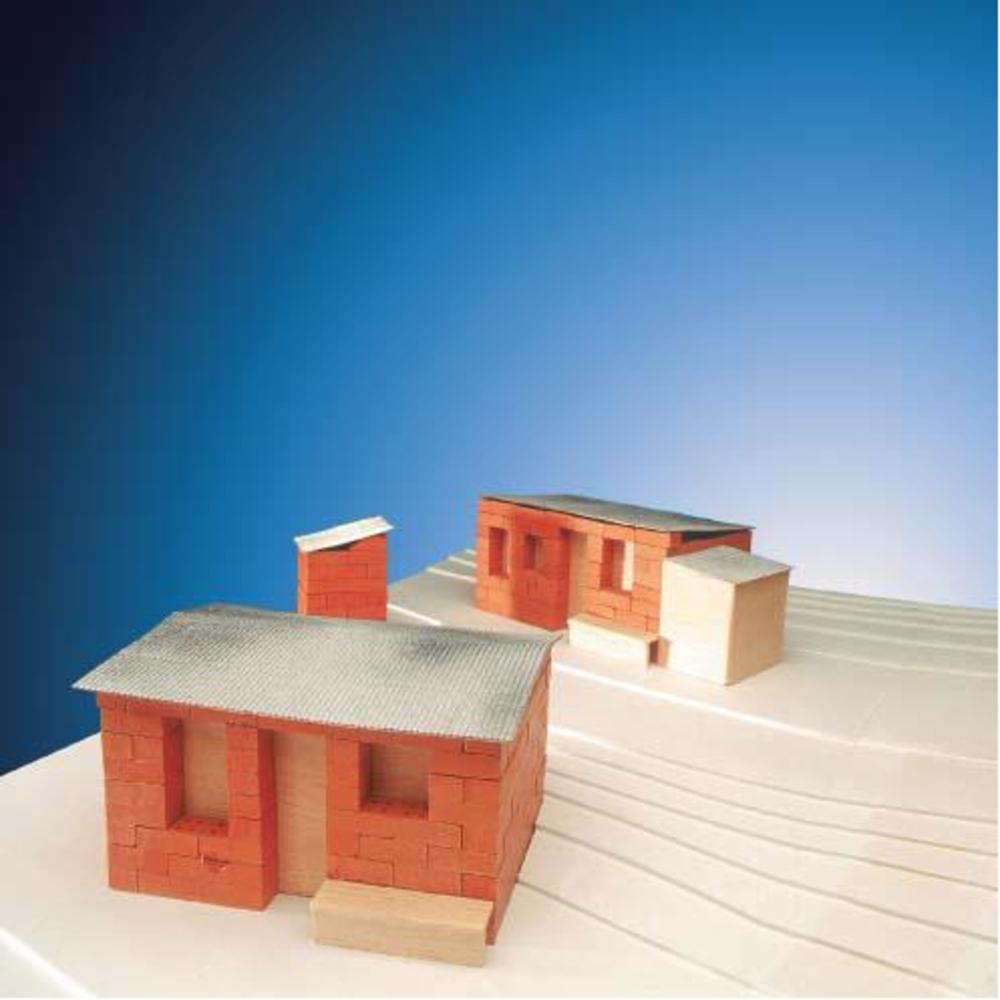 THE HOUSE OF HISTORY
Marjetica Pötrc
1999
Everyone understands stories about how we see ourselves
depicted on buildings and walls. Children draw houses in the image and likeness of their faces: with a door and two windows as the mouth and eyes. I am a sculptor and also studied architecture. I build houses and walls as metaphors for human situations. For the Parque de la Memoria I propose to build several houses, each with a bench and a tree in front, with the purpose of providing places of contemplation and commemoration for those who walk there. In the same way that human beings have different faces and personalities, houses will be different from each other, built with different materials and slightly different. They will be anti-monumental houses, respecting the human scale. Several years ago, Argentine friends exiled in Slovenia told me about the disappearances of people during the "dirty war". My own parents survived the Nazi concentration camps during World War II, and although they never spoke about it, I have a dumb understanding of what persecution is. I live in Slovenia, a country that was formerly part of Yugoslavia. In recent years I have seen people in Bosnia and Kosovo stripped of everything. However, their mere existence, their faces and their bodies told me more about what is human in a person than all the people who live normal and daily lives.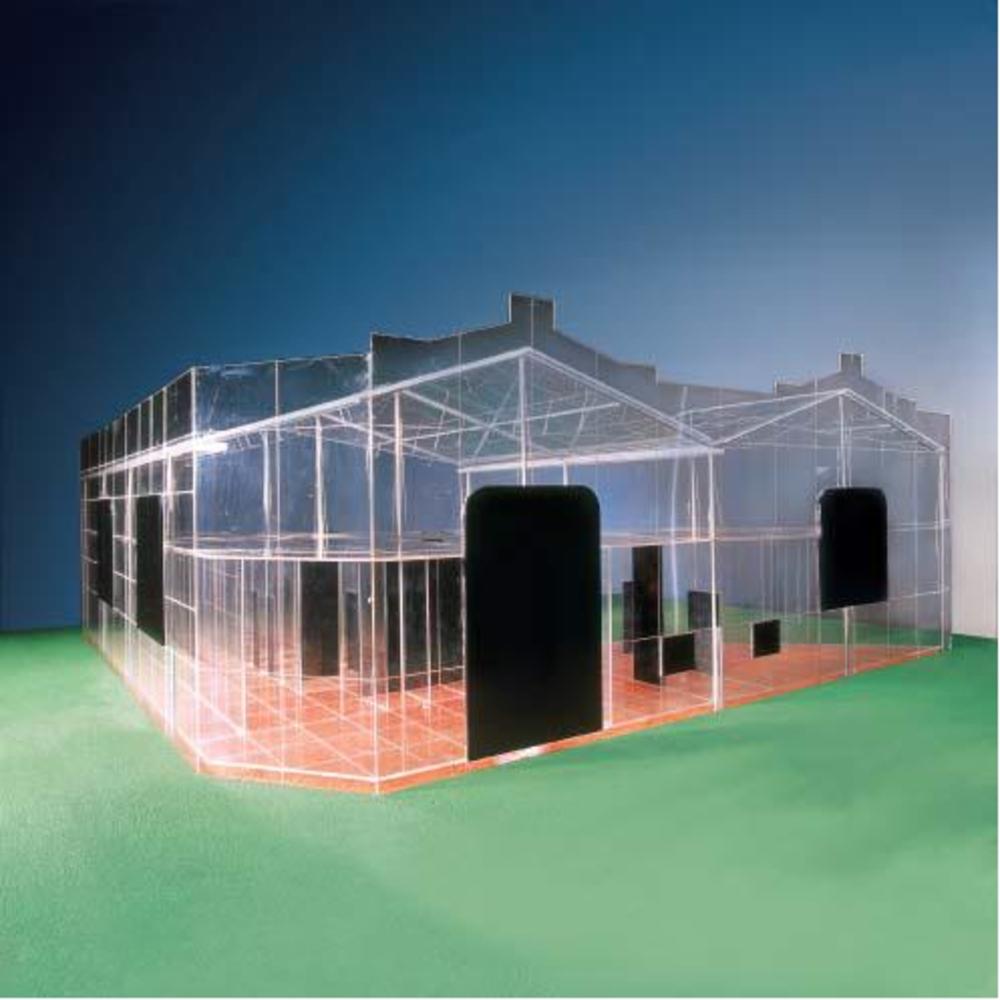 EL OLIMPO
Nuno Ramos
1999
I took as my starting point for my work the countless Clandestine Detention Centers (CCD) that multiplied throughout Argentina during the military governments. I was struck by the diversity of premises in which they were installed: many of them were made to believe that they were civilian spaces (old mansions, sports centers, small industries, a former temporary shelter, etc.). My idea is to rebuild in the Parque de la Memoria, altering it, a CCD in real scale, obeying the following criteria: where there was a wall or ceiling, use glass; Where there was a window, door or doorway, use black granite. With this, everything that was an obstacle (cell door, walls, ceiling) would become transparency (glass) and the few original foci of transparency in a place like this (windows, doors) would become obstacles (granite). The result would be a glass building with black granite slabs "floating" inside, mixing the burden of its mourning with the delicate transparency of the glass.
In this project I tried to stay as close as possible to so much atrocity and violence. I believe, however, that with a single principle – investing what is hidden by what is shown and what is shown by what is hidden – it will be possible to build a delicate and non-appealing mortuary monument, creating a continuum between public space of the park and the clandestine space of the dungeons.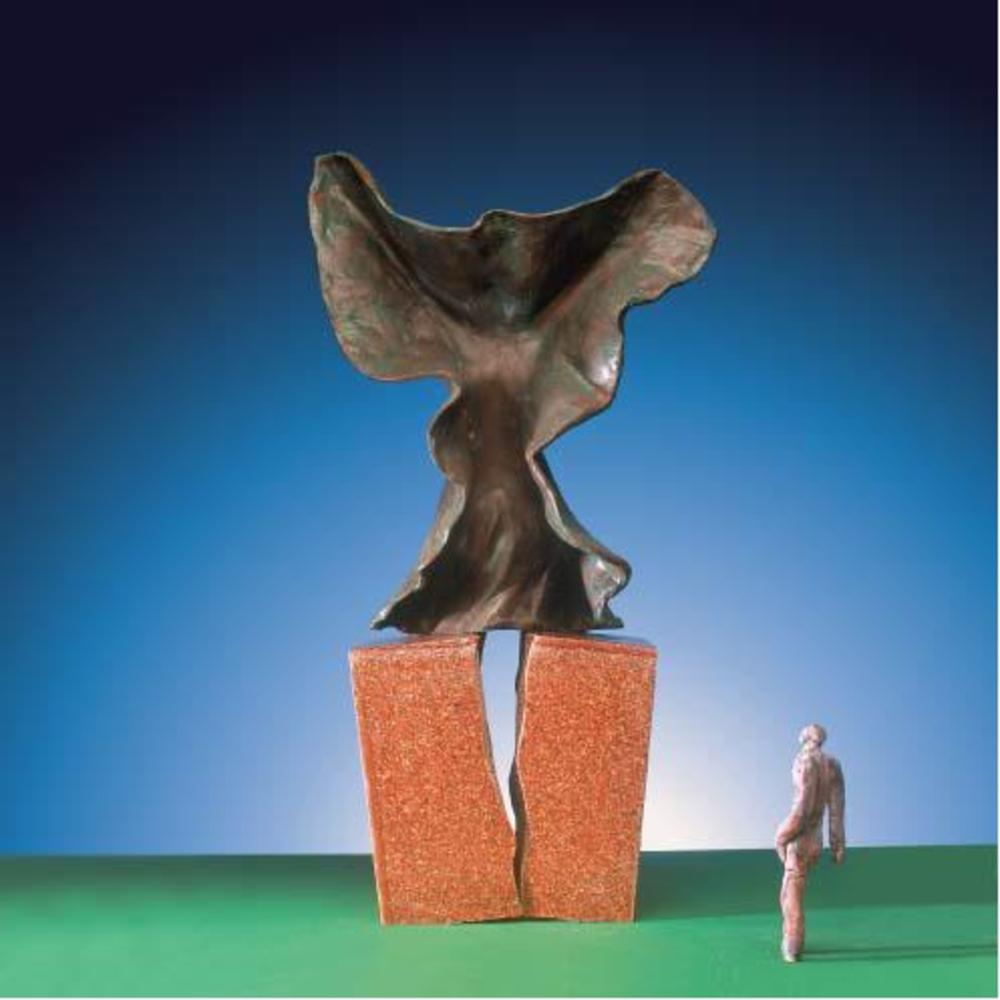 PRESENCE
Leo Vinci
1999
"Presence" is a sculptural work that represents the image of a large cloth that, pushed by the wind, clings to a figure from behind with its arms raised, as if making it take flight. However, when looking at the piece frontally, only its imprint is perceived, suggesting the presence of absence.
The sculpture will be supported on a large granite block in the manner of a pedestal, only it will be split in the middle and, therefore, sculpture and pedestal they will form a thematic whole.
My intention is to show the pain for what I have lived and at the same time the hope of returning to reborn in flight.
Stories of a Project not to Forget
_
The interviewees narrate their experiences in relation to the process of creating this memory space.
They are the ones who tell from their role as unwavering fighters in the search for Memory, Truth and Justice, what is the meaning of this place.
In this chapter, the artists Marie Orensanz, Claudia Fontes, Lorena Bossi (GAC) and Charo Golder (GAC) reflect together with Nora Hochbaum (Director General PDM) and Florencia Battiti (Curator PDM) about the process of conception, imagination and interpretation of their works located in the park.